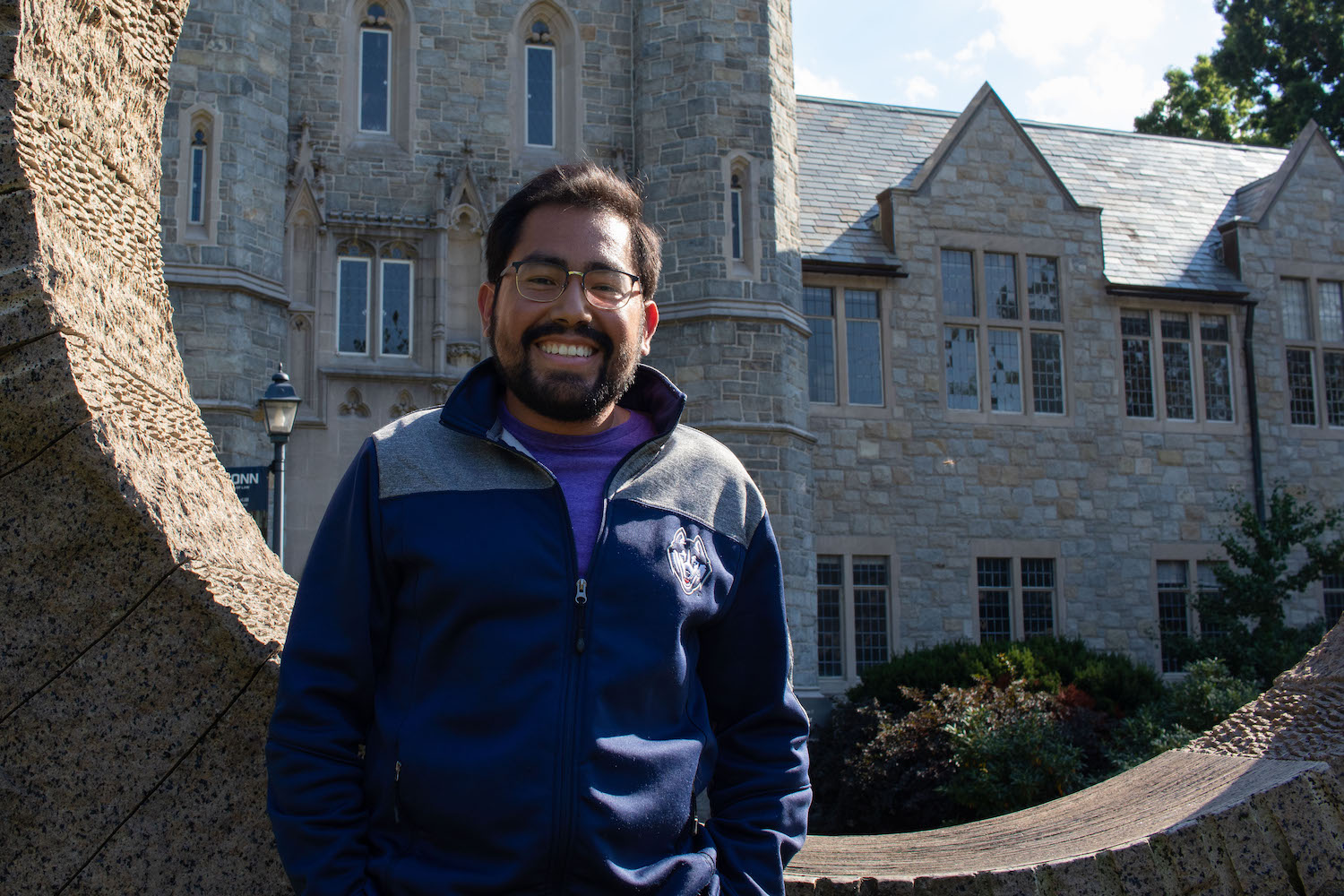 Christian Aviles is from Los Angeles and has lived in New Haven for the past six years. He began his college education at East Los Angeles College and transferred to Amherst College, where he earned a BA in English and Sociology.
Why do you want to attend law school? 
I am attending law school for the same reason I have done most things in my career: to help people. For years, I have been able to do just that through my work in education. In my eight years as an educator, and specifically in my years working as the director of college access and persistence at a nonprofit organization called Squash Haven, I have been able to work with so many students and their families to connect them to meaningful college and career opportunities. Working in education had always been my dream job. However, in the years since I started my career in education, my heart has gravitated toward helping my students and their families with matters outside of the immediate scope of the classroom experience. Whether it has been accompanying a family to court, connecting a mother to local resources so that she would not have to live in her car, or helping a family apply for food stamps so that they could have access to basic necessities, I have worked alongside my students and their families to empower them and help them access resources in the community that would allow them to move forward. Supporting the families in my community as they encountered myriad legal and economic issues now fuels my desire to attend law school.
Why did you choose UConn Law? 
UConn Law offered me everything I was looking for in a law school: a close-knit community, hands-on learning experiences through clinics and the Semester in DC program, and a community of legal scholars who are committed to the success of the people in our state. As an avid learner, I was also looking for an environment that would push the boundaries of my intellectual curiosity and allow me to form meaningful relationships with my peers and professors. Every interaction I had with UConn Law throughout the application process—be it through an information session or a lively conversation with Lauren Majchrowski—assured me that the University would offer me the enriching community I longed for.
What are you most looking forward to in this next year?
I am excited to get back in the classroom! It has been eight years since I graduated from college, and in that time, one thing I have missed is being in a classroom having intellectually stimulating conversations with a diverse group of peers. I am also really excited about connecting with my professors. Back in college, my professors knew me as an avid user of office hours, and I can't wait to get to know them more throughout my time at UConn Law. Overall, I am looking forward to building connections with my peers and professors, and to contributing to the strength of the UConn Law community.
How do you want to use your law degree? 
One of the most rewarding aspects about my current work in education is getting to provide students and their families with one-on-one support that addresses many of their pressing concerns, such as lack of employment, housing instability, or food insecurity. Though my advocacy efforts are often successful, I am increasingly frustrated and disheartened that my individualized approach often feels like a band-aid solution given the systemic barriers my students and their families are up against. My experience helping the families at Squash Haven as they face similar economic, housing, and legal challenges to those my family encountered has made me want to eradicate the barriers that exist in my community by taking on the laws that put them there in the first place. Attending law school will give me the tools to transform our legal system from one that often creates barriers into one that supports, empowers, and serves the people who need it the most. I am committed to continuing to help people in my community overcome the obstacles that have kept them from realizing the promises of economic prosperity, educational equity, and equality under the law. Though I now hope to take on this advocacy work as a lawyer, I know that I will continue to call on the traits that have marked my time as an educator: enthusiasm, curiosity, determination, and above all, love of family and community.
What do you do in your spare time? 
I am a big sleeper! When I'm not trying out new restaurants, reading a romantic comedy featured on Reese Witherspoon's book club, going on walks around the neighborhood, or watching the latest Hollywood blockbuster, I simply like to be at home sleeping! I am also an avid volunteer at the Greater New Haven Cat Project, where I get to live out my best cat-enthusiast life.
What is your favorite lawyer movie, TV show or book? 
Though not necessarily a lawyer TV show, "How I Met Your Mother" definitely gave me my first glimpse into the journey of a public interest lawyer. Watching Marshall Eriksen's journey from law school student to judge on the New York Supreme Court was inspiring, particularly because he remained deeply committed to using his legal education for the greater good.