The UConn Police Department is a fully functional police agency with the same statutory authority as any municipal police department in Connecticut. The department, which is state and internationally accredited, is responsible for the protection of lives and property at UConn and all adjacent areas within the jurisdiction of the UConn Police Department. The UConn School of Law substation of the UConn Police Department is located in Room 346 on the main floor of the law library.
The UConn Police Department produces an annual Security and Fire Safety Report, which covers the UConn Law campus, in compliance with the  Jeanne Clery Disclosure of Campus Security Policy and Campus Crime Statistics Act .
Emergencies
For a fire, medical emergency or other emergency, such as a crime in progress, dial 911 and provide all pertinent information to the city of Hartford's dispatcher. Please follow up with a call to the UConn Police Department at (860) 486-4801.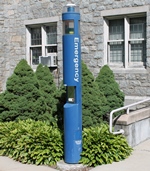 Emergency Blue Phones
Emergency Blue Phones are located throughout the campus. The blue phones automatically dial 911 and are located in the William F. Starr Hall parking lot, the Law Library parking lot, adjacent to the Knight Hall ramp, and the Hosmer parking lot.
Reporting a Crime
If you do not need emergency assistance but you have been the victim of a crime on campus or have witnessed a crime on campus, call (860) 486-4801 to reach the UConn Police Department. This number will be answered at a dispatch center at the main campus in Storrs, so make it clear that you are calling from the law school campus in Hartford.
Routine Calls
If you have a safety question or concern that is not an emergency, call the UConn Police Department at (860) 486-4801 or visit the UConn Police substation in Room 346 on the main floor of the law library.
Personal Safety Tips
Personal Safety Tips
Students are strongly encouraged to adopt the following sensible precautions to protect themselves and help keep the campus secure:
Do not leave valuable items in plain sight, including laptops and electronics.
Be sure that all doors close completely behind you.
Close all windows in classrooms and offices when you leave.
Stay in lighted areas after dark.
Walk in pairs or groups when possible.
Do not remain alone in offices or other areas late into the night.
If you notice suspicious individuals or activities on campus, please call the Campus Police immediately at

(860) 486-4801

.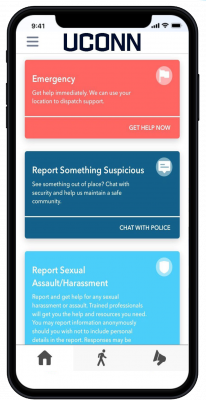 University Alert System
The University Alert Notification System provides a number of ways in which the University may contact the community in the event of an emergency. For more information, or to register your cell phone with the UConn alert system please visit the Alert Notification System site.