The 17-acre UConn Law campus in the West End of Hartford consists of five granite buildings in Collegiate Gothic style with a central quadrangle graced by the U-shaped "Middle Path" sculpture by Robert Sindorf. Four of the buildings were constructed in the 1920s and the fifth, the Thomas J. Meskill Law Library, was completed in 1996 with stone cut from the same quarry. The campus is listed on the National Register of Historic Places.  The campus grounds and library are open to the public. The five buildings are:
Cheryl A. Chase Hall, which houses the dean's office, several other administrative offices and the two largest lecture rooms on campus.
William F. Starr Hall, which contains the Reading Room, site of the law school's largest events, several  classrooms and the offices of student journals.
Hosmer Hall, site of faculty offices, the Insurance Law Center, and Janet M. Blumberg Hall, where many law school events are held.
Knight Hall, which contains classrooms, a student lounge and a fitness center.
The Thomas J. Meskill Law Library , which has a multitude of study spaces, several classrooms and a cafe.
Campus Safety and Security
The campus is patrolled by the UConn Police Department, a fully accredited police agency. For more information on safety, security and crime reporting, visit the Campus Safety page.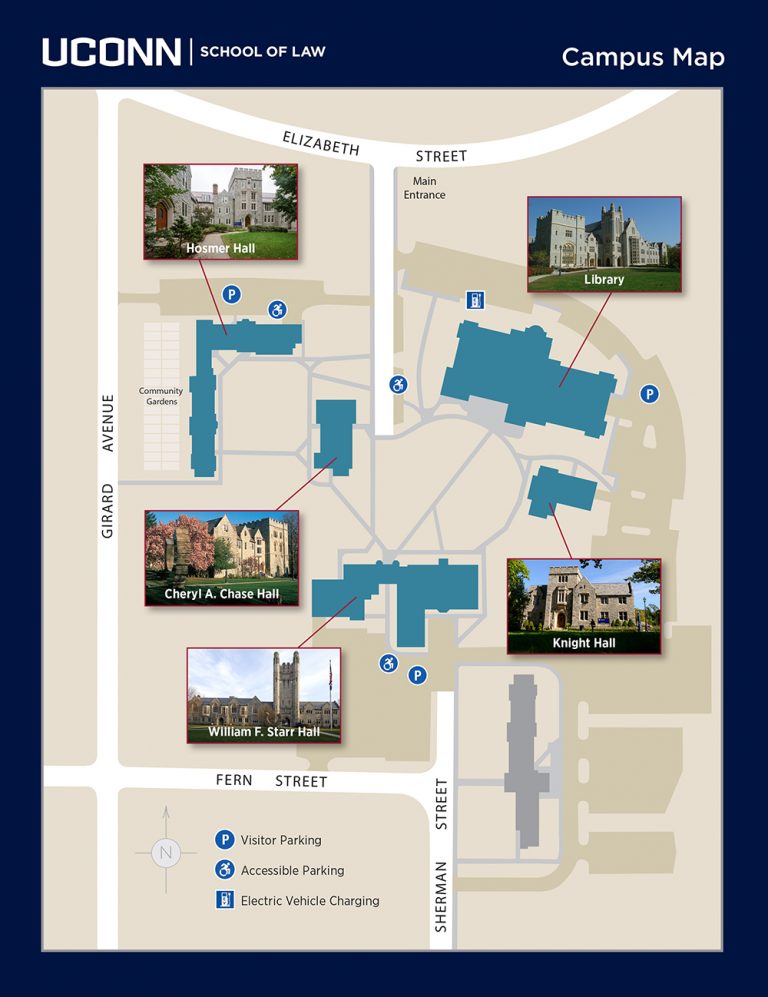 Address
55 Elizabeth Street
Hartford, CT 06105
Directions from I-84:
Take Exit 46
Turn right onto Sisson Avenue
Continue straight through the light at Farmington Avenue, onto Sherman Street
The Starr Hall parking lot is directly ahead
For events in Starr Hall the best GPS address is:
110 Sherman Street
Hartford, CT 06105
This is the Connecticut Attorney General's office. Continue past the building and directly into the parking lot at the end of the street.
Visitor Parking
Visitors to UConn School of Law who park on campus between 7 a.m. and 5 p.m. on weekdays must use designated spaces. The parking options are:
Metered spaces. Parking spaces with coin-operated meters can be found in Parking Lot B, in the area behind Knight Hall.
Pay-by-phone. Visitors may use their mobile phones to pay for parking anywhere in Lot B. Instructions on how to pay by phone are available on the UConn Parking Services website.
Accessible parking. Spaces reserved for visitors with state-issued handicap placards or plates are available near the designated visitor spaces in Lot B and near entrances to other buildings.
On-street parking. Visitors may choose to park on the city streets surrounding campus at no charge.
All other parking on campus between 7 a.m. and 5 p.m. on weekday is by permit only. The parking restrictions do not apply on nights and weekends, except that the rules for accessible parking are enforced at all times.
More information about parking for students, faculty and staff is available from UConn Parking Services.
Any questions about this policy, or about any tickets received, can be addressed to Parking Services at parkingservices@uconn.edu, or by calling (860) 486-4930.
Law School Campus Building Accessibility