Community Service
Service to the community takes many forms at the University of Connecticut School of Law. Students and faculty give legal assistance to the most vulnerable members of society through our clinics, which also provide students with practical training in the law. Students work in the public interest for nonprofit organizations and government agencies on a pro bono basis or as fellows supported by student fundraising. Faculty conduct research and public outreach to support and develop the rule of law. Our events and programs promote diversity in the legal profession, with an emphasis on bringing underrepresented populations into law school. Following are just a few examples of the ways we serve the public.
Injustice anywhere is a threat to justice everywhere.
- Martin Luther King Jr.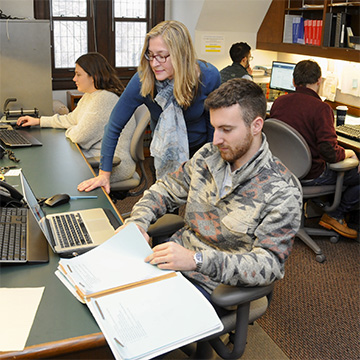 Representing Taxpayers
When low-income taxpayers have problems with the IRS, they have few resources to help find a resolution. Some face audits when claiming the Earned Income Tax Credit for low-income households. Others face penalties for underpayment of taxes on money earned driving for Uber or working for other companies in the "gig economy." The Tax Clinic at the UConn School of Law offers free legal representation to qualified low-income taxpayers to resolve those problems and other tax issues. In the past 20 years, the clinic has helped 1,400 taxpayers settle problems with the IRS and the Connecticut Department of Revenue Services.
Helping Immigrants
Two-thirds of asylum applications in the United States are denied, and immigrants who don't have lawyers are five times more likely to be rejected than those who do. That's why the assistance that Franklin René Ruano Galdamez got from the Asylum and Human Rights Clinic at the UConn School of Law was vital. He fled El Salvador, fearing for his life after gang members kidnapped him, beat him and threatened to kill him. In 2019, with the help of law students Alexandria Madjeric and Adam Kuegler, who took his case under the supervision of Professors Valeria Gomez and Jon Bauer, he received a grant of asylum. The clinic has won asylum or other forms of relief in 134 of 144 cases it has handled to completion.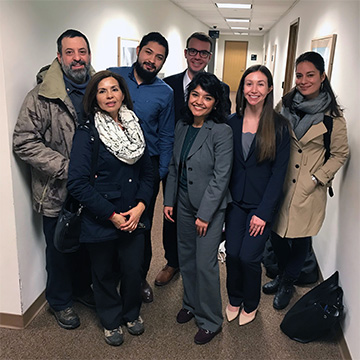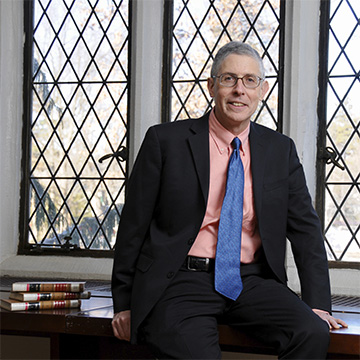 Demanding Equity
Applicants to the Connecticut bar no longer face intrusive questions about their mental health and demands for their private medical records, thanks in large part to a decades-long campaign by Professor Jon Bauer. Arguing that the questions were discriminatory and a violation of the Americans with Disabilities Act, he filed a lawsuit, wrote a much-cited law review article and led an informal coalition to campaign for change. His work helped persuade the Connecticut Bar Examining Committee to incrementally narrow the questions about applicants' mental health treatment and diagnoses. In January 2019, the committee removed all references to mental health from the application, which now concentrates instead on past conduct.
Protecting Animals
Eighty percent of animal abuse cases in Connecticut were dismissed or not prosecuted between 2006 and 2016, a situation that Professor Jessica Rubin and her students at the UConn School of Law wanted to change. They worked to pass Desmond's Law, the first legislation of its kind in the nation, allowing volunteer attorneys and supervised law students to advocate for justice in animal abuse cases. In 2018, Rubin established the Animal Law Clinic to help implement the new law. Today, under her supervision, UConn Law students serve as advocates in Connecticut courts, investigating animal cruelty cases, researching this novel area of the law and presenting recommendations to the court.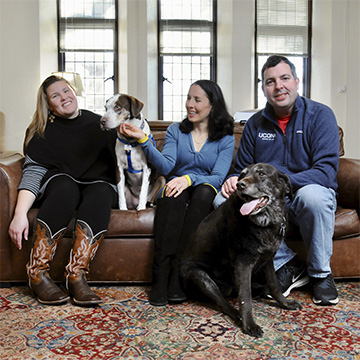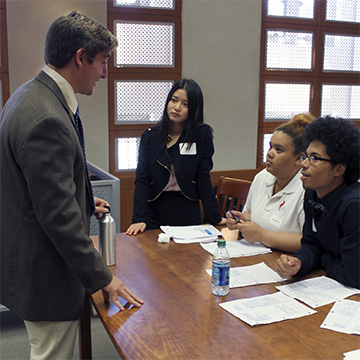 Building Diversity
People of color have long been vastly underrepresented in the practice of law. The Summer Mock Trial program is one way the UConn School of Law is working to create a "pipeline" to bring more diversity to the profession. Hartford Public High School students learn about criminal trial practice and visit the law school to try a fictional case. One of the first students to participate when the program began in 2007 was Je'Quana Orr, then 15 years old and thinking only of becoming a professional basketball player. In 2018 she graduated from the UConn School of Law and began her career as an associate at Robinson & Cole LLP. The firm underwrites the mock trial program, which was founded by UConn Law students and is directed by Professor Rachel Reeves.
Giving Service
Every summer, dozens of UConn Law students work in the public interest at no cost to the nonprofit organizations and government agencies they serve. For example, in 2019 law student Thomas Dupont worked as a summer law intern at Greater Hartford Legal Aid, representing low-income clients. Dupont wrote and successfully argued a motion that helped protect a client from eviction. His work also included research and community outreach. He was one of many students who won public service fellowships from the student-run Public Interest Law Group, which raises funds to support the program through an annual auction of donated goods and services.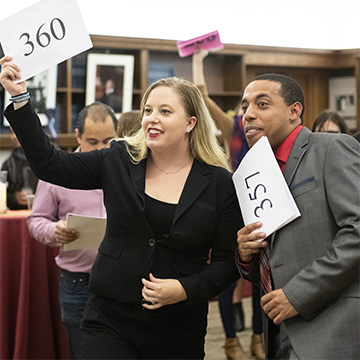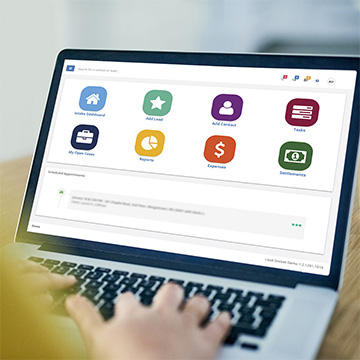 Sharing Solutions
The Connecticut Legal Rights Project needed a streamlined way to provide its low-income clients with advanced health care directives. The Animal Law Clinic at the UConn School of Law needed an efficient case management system to track the animal cruelty cases in which its students act as advocates. Enter Professor Jessica de Perio Wittman's Technology and Law Practice class. In the Spring 2019 semester, her students devised an automated interview process to create advanced directives and configured a case management system for the clinic. The students got hands-on experience solving technical problems in a legal environment and practice working in teams, plus the satisfaction of applying technology to serve the public good.
Fostering Innovation
Patents, trademarks and copyright issues can frustrate entrepreneurs, especially those with limited financial resources. In Connecticut, they can turn for help to the Intellectual Property and Entrepreneurship Law Clinic at the UConn School of Law. In the past 13 years, the clinic has assisted 475 clients register 227 trademarks and earn more than 40 patents. Among those clients have been small business owners such as Brent Cordy of Mansfield, who needed assistance to work out a trademark problem for his Coma Skateboard company, and UConn undergraduate nursing student Ellen Quintana, who sought a patent for her invention that reduces medical glove waste and contamination.