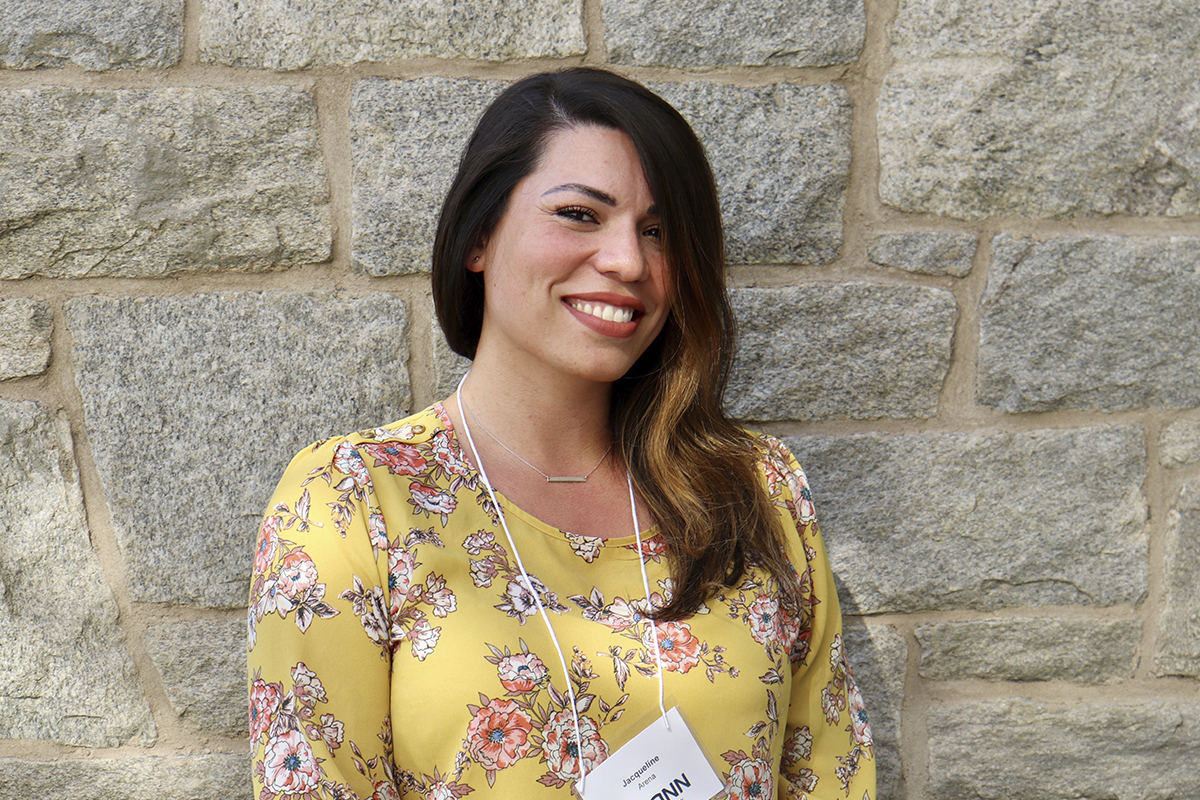 Jacqueline Arena is a Connecticut native and nurse anesthetist who lived in New York City and Philadelphia before returning to Connecticut in 2013. She holds a BS in Psychology and Biology from Fordham University, a BS in Nursing from Fairfield University and an MS in Nurse Anesthesia from Drexel University. She is an Evening Division student. 
1. What made you want to attend law school? 
I think I've always been interested in the many facets of the law; however, I decided to go the medical route once I was preparing for college. It wasn't until very recently that I realized that I could do both. Issues between my husband and his ex-wife regarding the legal custody, health care and special education rights of my 10-year-old autistic stepson reignited my passion for justice and the law.
2. Why did you choose UConn Law? 
Even though I haven't always resided in Connecticut, I was born and raised here, and UConn Law's reputation is impeccable - especially the Evening Division. I am also fortunate enough to work for UConn Health -- and will continue to do so throughout law school -- and the benefits of working for a university system are too good to pass up!
3. What are you most looking forward to in these next few years? 
I am very much looking forward to immersing myself in learning the law and absorbing as much information as I can and having as many experiences as possible. I am hoping to make great connections and friendships and just make the most out of this awesome opportunity!
4. What do you do in your spare time? 
That's a great question, haha! When I'm not working full-time, I'm very much a homebody. I love reading (it was my first love!) and spending time at the beach, but I especially love spending time with my husband, my two daughters, stepson and dog. They really make my life complete. I also enjoy listening to music and DIY craft projects, tending to my rose garden, all things beauty-related and I am absolutely OBSESSED with Halloween. When I have the time (and energy), I enjoy my Peloton rides, too.
5. How do you want to use your law degree? 
I would love to do something related to the medical field in either medical malpractice or health law. I would also love to contribute to child advocacy causes and certain facets of family law. I really like picking apart documents, so maybe contracts law is in my future as well! I am bilingual (I was raised speaking Spanish), and also could see myself dabbling in international law.
6. What is your favorite lawyer movie, TV show or book? 
I love the novels-turned-movies, "A Time to Kill" and "The Pelican Brief." "A Few Good Men" is also a great film (I think I'm dating myself to growing up in the 90s with these choices, haha!). "To Kill a Mockingbird" will always be my favorite lawyer novel, and I really enjoyed watching "Law & Order: SVU" reruns throughout high school and undergrad.