Explore UConn Law Online
You can see what life is like at UConn Law before you even set foot on campus. Explore the school virtually through our video viewbook.
Lauren Terbush has served as director of JD admissions at the UConn School of Law for three years and has more than seven years' experience in law school admissions. She is happy to meet with any applicant or prospective student who has questions about their candidacy, the admissions process and policies, the JD program or the law school community. She is a proud first-generation college and law school graduate who specializes in providing tailored advice regardless of where potential students are in their law school admission journeys.
To connect with other members of the admissions team, please use the contact information below:
Deb Funke
JD Admissions Assistant
deb.funke@uconn.edu
Expertise Areas: application requirements and policies, waitlist information, engagement opportunities (virtual events, recruiting, and faculty connections)
Rachele Torres
Assistant Director of JD Admissions
Rachele.torres@uconn.edu
Expertise Areas: residency, application requirements and policies, decision process and status, scholarship inquiries, character and fitness, transfer admission
Student Ambassadors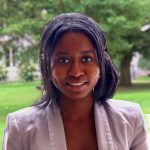 Zoe Russell is a 3L day student with a Bachelor's in English Literature from Trinity College '20. In undergrad, she was a coxswain for the Varsity Women's Rowing team; a tour guide; and studied abroad in Vienna, Austria. At UConn Law, she is a part of the Connecticut Insurance Law Journal, the Negotiations and Dispute Resolution Society, and an e-board member on both the Diversity Alliance and the Business & Transactional Law Society. She is from Westchester, NY and her current legal interests are real estate and land use.
To connect with Zoe, e-mail zoe.russell@uconn.edu.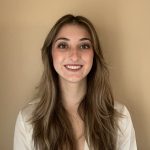 Jacqueline Stevens is a 1L day student who received her Bachelor's degree in Criminal Justice from California State University, Fullerton. While at CSUF, Jacqueline was a member of the Criminal Justice Honors Society (Alpha Phi Sigma) and the Pre-Law Society. She also interned at the Riverside District Attorney's Office for five months before entering Law school. She is a member of the Women Law Students' Association, Latinx Law Students Association, and Italian American Law Students Association. Jacqueline is interested in pursuing a criminal law career.
To connect with Jackie, e-mail jacqueline.stevens@uconn.edu.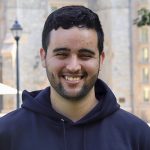 Sebastian Torres is a 2L evening student with a Bachelor's in Political Science from Florida State University. His undergrad work focused on advocacy from working in the Florida State Capital to being an SGA Senator and Policy Chair for the FSU Student Union. A Florida native, he comes from a family of immigrants and was the first to be born here in the US. He is currently a member of Latinx Law Students Association, Lambda Law Society, and First Generation Student Association. His current legal focus is on transactional and corporate law.
To connect with Sebastian, e-mail sebastian.torres@uconn.edu
Virtual and In-Person Campus Tours
The beautiful UConn Law campus is listed on the National Register of Historic Places. We are located in the West End of Hartford, midway between New York and Boston and 28 miles from the university's main campus in Storrs. The campus spans 17 acres and comprises five Gothic-style buildings. Take a closer look:
Ready to see our beautiful campus in person? Student-guided campus tours for the fall 2021 semester are available on a pre-registration basis only. Schedule your campus tour today!