Annual Awards
The University of Connecticut Law School Alumni Association presented its 2023 awards at the Annual Meeting and Awards Dinner on Thursday, October 26, 2023. The awards recognize service to the law school, the legal profession and the community.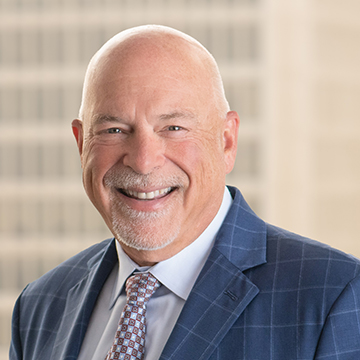 Distinguished Graduate Award: Michael Cantor ENG '80, JD '83
Michael Cantor leads one of the country's largest and most productive intellectual property law firms. After graduating from UConn with a BS with honors in Chemical Engineering / Materials Engineering and then earning a JD from UConn Law, Cantor joined a two-attorney patent law firm. Forty years later, Cantor Colburn has grown exponentially to 100 attorneys and patent agents, with offices in Hartford, Washington, Atlanta, Houston and Detroit. Clients include Fortune 100 companies, select high-tech startups, universities, research centers and numerous mid-size companies in the United States and throughout the globe. Cantor has represented businesses from a broad range of industries, including manufacturing, high technology, entertainment, and consumer products. He is also active in supporting economic development and innovation and chairs the board of directors of Connecticut Innovations. UConn has remained important in Cantor's life since graduation. His wife, Shari, is a UConn trustee, and two of their four sons are UConn graduates.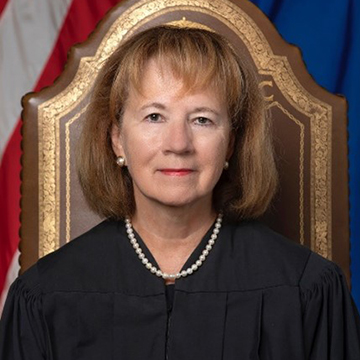 Public Service Award: The Hon. Christine Keller '77
Justice Christine Keller is an honors graduate of Smith College and an honors graduate of the UConn School of Law. On July 27, 2020, she was nominated by Gov. Ned Lamont to be an associate justice of the Connecticut Supreme Court, on which she served until her retirement in October 2022. She previously served on the Connecticut Appellate Court from 2013 to 2020 and Connecticut Superior Court from 1993 to 2013, after a career in government, private practice, and non-profit law. Keller has received numerous public service awards, including the 2008 Henry J. Naruk Judiciary Award, presented annually to a Connecticut judge for judicial excellence; the 2012 Connecticut Juvenile Court Innovation and Leadership Award; and in 2022 The Hartford County Bar Association's John M. Bailey Memorial Award for Public Service. Throughout Keller's career, she has passionately advocated for juvenile justice reform.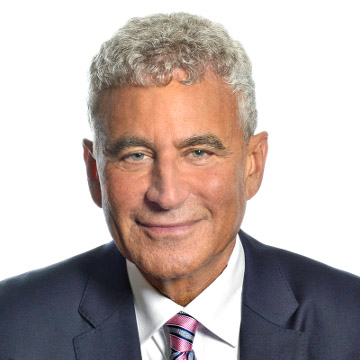 Distinguished Service Award: Richard D. Pomp
Richard D. Pomp is the Alva P. Loiselle Professor of Law at UConn Law School. He is a summa cum laude graduate of the University of Michigan and a magna cum laude graduate of Harvard Law School. He has taught at Harvard, New York University, Columbia, University of Texas, and Boston College. In addition, he has been a distinguished professor in residence at Chulalongkorn Law School, Bangkok, Thailand, and a visiting scholar at the University of Tokyo Law School and at Harvard Law School. In 2007, he received the NYU Institute on State and Local Taxation Award for Outstanding Achievement in State and Local Taxation. In 2011, he was awarded the Bureau of National Affairs Lifetime Achievement Award. He was the 2012 winner of the University of Connecticut's Faculty Excellence in Teaching – Graduate Level. Tax Analysts selected him as its 2013 State Tax Lawyer and Academic of the Year. In 2014, he received the Council on State Taxation's Excellence in State Taxation Award. The Connecticut Law Tribune selected him for a 2015 Professional Excellence Award. In 2017, he won the Perry Zirkel '76 Distinguished Teaching Award. In 2022, he was appointed a Board of Trustees Distinguished Professor, the highest honor the University can bestow on a faculty member.
2023 Graduates of the Last Decade Impact Awards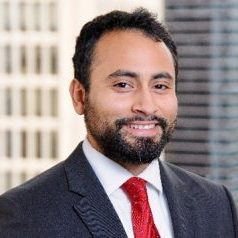 Andrés Jiménez-Franck '19
Andres Jimenez-Franck is a labor and employment attorney at Ogletree Deakins, where he focuses on management-side counseling and litigation. Before he joined Ogletree Deakins, Jiménez-Franck was an associate at the firm Pullman & Comley, where his practice included general commercial litigation. Jiménez-Franck is a former officer of the Connecticut Hispanic Bar Association, having previously served as its director of communications, secretary and treasurer. He is also an outgoing presidential fellow of the Connecticut Bar Association and is currently the secretary for the Labor and Employment Section of the Connecticut Bar Association. Jiménez-Franck is a former member of the City of Hartford's Planning and Zoning Commission, having served as a member from 2020 to 2022. While a student at UConn School of Law, he was president of the Latino Law Student Association and membership editor of the Connecticut Public Interest Law Journal.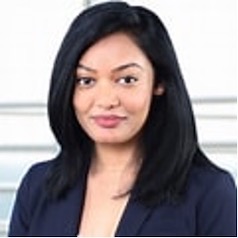 Choity Khan BA '13, JD '16
Choity Khan is associate regulatory compliance counsel at STO Building Group in New York. She was previously an attorney at Robinson & Cole LLP, where she represented construction industry clients including owners, contractors, subcontractors and design professionals. In 2019, Khan was recognized as a Super Lawyers Rising Star. She has been a member of the South Asian Bar Association of Connecticut Board of Directors since 2019 and has been active in the Connecticut Bar Association's Young Lawyers Section since her admission to the Connecticut Bar in 2016. From 2017 to 2019, she served as a co-chair of the Women in the Law Committee of the Young Lawyers Section. Khan was recognized as a Star of the Year for the 2017-2018 bar year for her work as co-chair. She currently serves the Young Lawyers Section Executive Committee as the Connecticut and Rhode Island District Representative to the American Bar Association's Young Lawyers Division.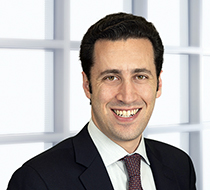 Francesco C. Mioli '17
Francesco C. Mioli is an attorney in Robinson Cole's Real Estate and Development Group, where he concentrates his practice on commercial real estate transactions, including real estate finance, development and leasing matters. Mioli is president of the Connecticut Italian American Bar Association and has been a member since 2018. He is also an active member of the Connecticut Bar Association, where he served on the Building Committee and is currently serving on the Diversity, Equity and Inclusion Committee and House of Delegates. He was a recipient of Robinson Cole's 2022 Diversity, Equity, & Inclusion Award.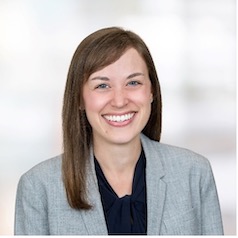 Sarah Dlugoszewski '16
Sarah Dlugoszewski is an associate at Shipman & Goodwin and has worked as a member of the firm's business litigation practice group since 2016. Her practice runs the litigation gamut, ranging from personal injury matters to product liability and insurance coverage disputes. In addition to her litigation practice, Dlugoszewski is a veteran's advocate and coordinates with Connecticut Veterans Legal Center on pro bono matters aimed at securing benefits for deserving veteran clients. Dlugoszewski also serves as a member of the center's Pro Bono Advisory Council. In 2022, she received the Connecticut Bar Association's Anthony V. DeMayo Pro Bono Award in recognition of her zealous advocacy for veterans.
LSAA Annual Meeting & Awards Dinner 2022 Sponsors
Ruel Ruel Burns and Britt LLC
Locke Lord LLP
Carmody Torrance Sandak & Hennessey LLP
Capital Strategies Group LLC
Carlton Fields PA
Connecticut Bar Association
Shipman & Goodwin LLP
Law Offices of Pat Brown
Pullman and Comley LLC
Attorneys from the Office of the Chief State's Attorney
Dear Friends of Lubbie Harper
McElroy, Deutsch, Mulvaney & Carpenter LLP
Robinson and Cole LLP
Koskoff Koskoff & Bieder PC
McCarter & English LLP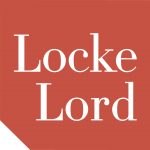 Michael Bellafiore '97
Professor & Dean Emeritus Timothy Fisher

Past Awardees
Distinguished Graduate Award Winners
2022 Kathleen Nastri '86
2021  Michael J. Callahan '95
2020  Curtis Tearte '78
2019  Henry S. Cohn '70
2018  Anne C. Dranginis '72
2017  Cheryl A. Chase '78
2016  Kathleen A. Murphy '87
2015  Andrew J. McDonald '91
2014  James T. Shearin '86
2013  Michael L. Aresco '76
2012  Evan D. Flaschen '82
2011  James K. Robertson, Jr. '74
2010  James Sicilian '81
2009  Christine S. Vertefeuille '75
2008  Kevin J. O'Connor '92
2007  Christopher F. Droney '79
2006  Hope C. Seeley '89
2005  Alphonso E. Tindall, Jr. '81
2004  John H. Durham '75
2003  Thomas J. Groark, Jr. '65
2002  Dona D. Young '80
2001  William H. Trachsel '71
2000  Joette Katz '77
1999  Daniel F. Flynn '62
1998  Rosemary E. Giuliano '78
1997  Richard N. Palmer '77
1996  Randall Pinkston '80
1995  Members of the Judiciary
1994  Thomas D. Ritter '77
1993  Hubert J. Santos '69
1992  Robert R. Googins '61
1991  Thomas H. Dooley '64
1990  Francisco L. Borges '78
1989  John F. Droney '73
1988  Dale P. Faulkner '63
1987  Richard D. Tulisano '69
1986  James J. Kennelly '59
1985  Hugh F. Keefe '67
1984  William R. Davis '55
1982  James F. English, Jr. '56
1981  Lewis B. Rome '57
1980  Robert N. Giaimo '44
1979  Joseph W. Bogdanski '40
1978  T. Emmet Clarie '38
1977  Carmine R. Lavieri '48
1976  Anthony V. DeMayo '51
1975  Carl W. Nielsen '52
1974  Alva P. Loiselle '43
1973  Louis Shapiro '32
1972  Douglass B. Wright '37
1971  Thomas J. Meskill '56
Distinguished Service Award Winners
2022 Marilda Gandara '78
2021 Constance Belton Green '72
2020 Timothy Fisher
2019 Ingrid Moll '99
2018 Jon Bauer
2017 Steven M. Greenspan '85
2016 Lewis S. Kurlantzick
2015 Martha Stone
2014 Barbara J. Collins '78
2013 Willajeanne F. McLean
2012  Jeremy Paul
2011  Alexandra Davis DiPentima '79
2010  William R. Breetz
2009  Laurie S. Werling
2009  Alan E. Green '74
2008  Rafael A. Santiago '83
2007  Kurt A. Strasser
2006  Nell Jessup Newton
2005  Alfred V. Covello '60
2004  James D. Bartolini '75
2003  Donna F. Martinez '78
2002  Barbara B. Kennelly
2001  Dr. Henry C. Lee
2000  Hugh C. Macgill
1999  John C. Brittain
1998  Robert J. Callahan
1997  David W. Collins '58
1994  Robert C. Zampano
1993  Ellen Ash Peters
1992  Cornelius J. Scanlon
1991  Peter A. Lane '67
1990  George Schatzki
1989  Ethel S. Sorokin '53
1988  Thomas C. McKone '49
1987  Howard R. Sacks
1986  Phillip I. Blumberg
1975  George F. Sherwood '66
1974  Aaron Nassau
Public Service Award Winners
2022 Lubbie Harper '75
2021  Robert W. Clark '97
2020  Michelle Duprey '93
2019  Charles Luckey '85
2018  Perry Zinn-Rowthorn '97
2017  Eric D. Coleman '77
2016  Linda J. Kelly '76
2015  Susan B. Handy '80
2014  Harry D. Weller '79
2013  John A. Danaher, III '80
2012  Pedro E. Segarra '85
2009  Nora R. Dannehy
2007  Michael R. Sheldon
2006  Joan Glazer Margolis '78
1990  Thomas P. Smith '72
1989  Robert I. Berdon '57
1988  Eunice S. Groark '65
1987  Anne M. Hamilton '73 & Rosalind S. Katz '78
1975  William D. Graham '49
1974  Robert C. Leuba '60
Medal of Excellence Award Winners
2019  Karen DeMeola '96
2015  Robert M. Langer '73
2012  The Honorable Ellen Ash Peters
2010  Anthony V. DeMayo '51
2008  William F. Gallagher '63
2004  Ralph Gregory Elliot
1990  William B. Rush '59
1989  Wesley W. Horton '70
1988  William S. Zeman '41
1987  Robert W. Fiondella '68
1975  William R. Davis '55
1974  George F. Muir '39
Graduates of the Last Decade Impact Award
2022:Rebecca KellyG JD '12, Claire Howard JD '13, Douglas Dalena JD '12
2021: Alexandra J. Cavaliere '16, Franklin E. Perry '13, Bianca Scherr '16, DeVaughn L. Ward '11
2020: Dan Brody '15, Aigné Goldsby '16, Lisa Marie Rivas '11
2019: Alfredo Fernández '12, Ellen Messali '10, Erick Russell '12
2018: Donald J. Bell '13, Walter Menjivar '12, Meredith O'Keefe '08, Matthew Ritter '07
Lifetime Achievement Award
2016 Julia Brezina Dunlop