DIVERSITY
Introducing the most racially diverse class in the law school's 101-year history.

31 % people of color
9.8 percent Black or African American
5.9 percent Asian or Pacific Islander
4.6 percent Latinx or Hispanic
11.1 percent two or more races
GPA
25th percentile: 3.38
median: 3.64
75th percentile: 3.78
25% first-generation students
(first in their families to attend college)
LSAT
25th percentile: 156
median: 160
75th percentile: 162
Students with advanced degrees: 18%
Enrollment
153
Day Division: 122
Evening Division: 31
Selectivity
Total Applications: 1591
Number Admitted: 448
Admit Rate: 28%
Access
Students awarded scholarship aid:
98%
Meet Members of the Incoming Class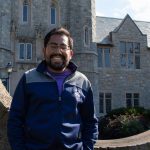 Christian Aviles: "UConn Law offered me everything I was looking for in a law school: a close-knit community, hands-on learning experiences through clinics and the Semester in DC program, and a community of legal scholars who are committed to the success of the people in our state." Read more.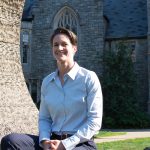 Alexandrea "Alex" Davenport: "Ultimately, it was the kindness, the empathy, the sincerity and joy, the commitments to community and care that staff, administrators, and students alike displayed throughout my search process that compelled me to choose UConn." Read more.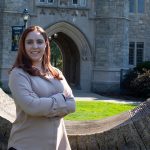 Gabriela Doskos: "I chose UConn Law for its robust part-time law program, for the Intellectual Property and Entrepreneurship Law Clinic, and for the beautiful campus. I mean come on, it's basically Hogwarts!" Read more.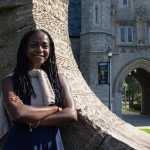 Joy Hamer: "After fiercely considering several institutions, I gained an appreciation for UConn's competitive academic programs, particularly its international programs. However, my decision to attend was cemented after my official visit. The warmth of the campus, on-boarding staff and students was genuine and persuasive." Read more.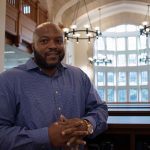 Brian McKoy: "I chose UConn Law for the 5.7:1 student-to-faculty ratio, small class size, and the exemplary bar passage rate. In addition, UConn Law seems to be in line with what I have taken on as my purpose in life. I feel my purpose in life is to serve." Read more.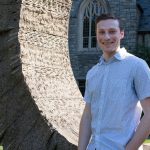 Joshua Schneider: "I chose UConn Law because of its strong focus on career development and diversity of opportunities for experiential learning. The Semester in DC Program was particularly appealing to me, as I hope to pursue a career in government." Read more.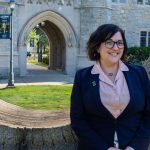 Rachel Marlena Stevens: "I love the individualized attention and that I already know several faculty and staff members fairly well and feel comfortable contacting them about all manner of things. To me that speaks volumes about the emphasis the school places not just on training future lawyers but also on creating community." Read more.